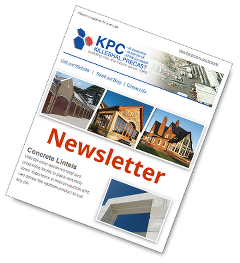 Feel free to browse through our archive of past newsletter mailshots (via email) as listed below.
The newsletters are listed in descending order, with the most recent newsletter at the top of the listing.
If you would like to receive our newsletter via email simply hit the "Subscribe" link at the bottom of any of the newsletters and keep up to date with our incredibly wide range of products.
---


Tactile Paving with Tactile Studs: Tactile Paving Studs and Strips have become an increasingly relevant tool in creating a safer and more inclusive environment. We have been supplying tactile paving for quite some time, but we've noted an increased demand for Stainless Steel Tactile Paving Studs & Strips for retrofitting on existing paving.
2017 Jul Newsletter


Widest Range of Window Sills Ex Stock: We've been making precast concrete window sills since 1969.
With almost 50 years experience we have built up an incredible array of profiles to suit every build type… and we can provide speedy delivery to any UK postcode, usually within 3 days on our standard items.
2016 May Newsletter

Widest Range of Wall Coping Ex Stock: We've been making wall coping since 1969 and have built up an impressive array of styles to suit any project. We can provide speedy delivery to any UK postcode, usually within 3 days on our standard items.
2016 Apr Newsletter


Wall Coping Down To A Tee: Wall coping is very much a part of the look and feel of a property and as such, coping choice should be given careful consideration. KPC offer just about the widest selection of wall coping styles and profiles around, so we're bound to have something for your project.
2015 Dec Newsletter

Avoid Crushing Damage – PadStones: PadStones are one of those things that you will very much regret not using if you intend to install substantial lintels, RSJs or other load-bearing beams and KPC can help you avoid that sinking feeling with a range of off-the-shelf padstones as well as a virtually limitless ability to manufacture custom specified units.
2015 Sep Newsletter


Efficient and Cost-effective Drainage: Safety Kerbs from KPC provide excellent capacity to channel excess surface water away from paved areas that may be subject to heavy loads.
In fact, Safety Kerbs from KPC have a load bearing capacity of 40 tonnes, certified under EN 1433:2002.
2015 May Newsletter


Keep it Eco-Friendly with Grass Blocks: Grass blocks from KPC are the kind of product that afford a win-win situation, with great hard-standing, preventing puddling and rutting on parking areas and access routes and at the same time contributing significantly to your Sustainable Drainage System efforts.
2015 Mar Newsletter


Line Drainage from KPC: ULMA Line Drainage systems from KPC provide a complete system to deal with surface rainwater and channel it away efficiently. We provide systems with load ratings from A15 light pedestrian units to the heavyweight F900 load class.
2015 Feb Newsletter


Lintel Design Service from KPC: KPC's technical team is uniquely positioned to propose unbiased combinations of concrete and steel which provide the best overall value to both contractor and client.
2015 Jan Newsletter


Merry Christmas from KPC: As we near the Winter holiday season we would like to take this opportunity to thank you for your enquiries and your custom in 2014 and to wish you the the very best for you and your business in 2015
2014 December Newsletter


Steel Bollards Maintenance: Unfavourable environmental conditions, exacerbated by the absence of a stainless steel bollard maintenance plan may lead to premature ageing. Here are 5 great tips for keeping your stainless steel bollards looking bright and beautiful!
2014 October-November Newsletter


Window Sills & Wall Caps: Why is it that we constantly receive phone and email enquiries for "special" Sills and Coping? Well, since 1969 our approach to requests for specials has been to give the customer what they want. Small quantities? Unusual dimensions? No problem!
2014 August-September Newsletter


Bus Stop Kerbs: This product is recently off-patent in the UK and we are therefore happy to quote competitively, and deliver any quantity large or small to any postcode in the UK within 48 hours.
Maybe it's time you considered making KPC
your next supplier of Bus Stop Kerbs.
2014 June-July Newsletter


Lintels: Concrete Lintels, Steel Lintels, Feature Lintels with brick-slip and Qwik-Fix Relieving Angle, even Padstones. We have all of your Masonry Support requirements covered.
2014 April-May Newsletter


Window Sills: Precast Concrete, Reconstituted Stone or Natural Stone; Stooled, Non-Stooled and all shapes and sizes… we have the widest range of window sills in Europe. Whatever your build type, block, brick, stone or timber-frame, we have your requirements covered. 2014 March Newsletter


Bollards: Precast Concrete, Exposed Aggregate, Reconstituted Stone or Natural Stone in all shapes and sizes… we have a wide range of bollards. Whatever area you want to cordon off we have a bollard to suit. 2014 February Newsletter
---
Contact our team at KPC to see how we can provide the products that will support your project specifications.
---
Contact us by phone or email and see how we can meet your needs for construction materials. We think you'll be pleasantly surprised. See our Contact Us page for contact information.