KPC Bicycle Stands
KPC manufacture and supply a variety of bicycle stands from our simple, affordable concrete bicycle stand, available in fair-faced precast concrete and exposed aggregate variations to our range of high quality stainless steel bicycle stands.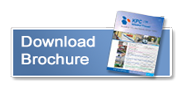 Specifications:
Precast concrete
Exposed aggregate
Stainless steel
Colour coated finishes
Galvanised metal
KPC's wide range of metal bicycle stands includes stainless steel options which have a more stylish, contemporary feel and are increasingly popular in urban regeneration projects. The stainless steel units are available in both brushed satin and mirror finishes.


Popular Cycle Stand Models

Model 1056 comes pre-assembled.

Model 2056 comes in kit form, to be assembled.
We also provide galvanised and colour coated finishes on our metal stands.
We also supply the incredible space saving Two Tier Bicycle Rack System allowing easy parking of bicycles with little effort required using its push and swing operation. This incredible system is perfect for parking areas where space is at a premium and comes complete with multiple locking points for the wheel and frame locking.
To view our full range of Steel and Concrete Bicycle Stands, download our brochure. Whether you want to achieve a modern feeling or maintain a traditional look, you can find it at KPC.
---
Need assistance?
Consult our engineers, we are always happy to answer any questions. Contact the team by phone on 0800 0393367, on email at info@killeshalprecast.co.uk or fill out the contact form below.
---