KPC Traffic Calming Products
KPC produce a range of Traffic Calming products to assist in the control of traffic speed and progress, particularly in residential areas and within car parks etc.:
Speed Ramps and Cushions
Sleeping Policemen
 Wheel Stops.
Speed Ramps and Cushions:
KPC's surface mounted ramps and cushions are preformed rubber/polyurethane composite with 100% recycled rubber. Modular design allows length and width to be easily adjustable and adding or changing modules which provides a perfect profile every time. These units are ideal for calming traffic flow through residential streets and car parks and enhancing safety for pedestrians and other road users in these areas.
Key Benefits: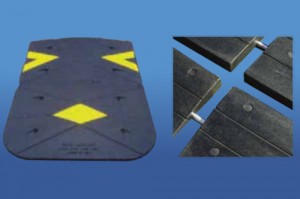 Easily removed and re-installed for resurfacing or changing road layouts
Minimal disruption to road users
Uniform dimensions at every location
Provides better drainage than traditional humps.
Safer for bicycles and motorcycles.
Markings are moulded in at time of manufacture so minimal maintenance
---
Sleeping Policemen:
KPC supply Sleeping Policemen in both concrete and a rubber composite material. Both materials create a durable product while the rubber composite version allows for easier relocation or modification, should the need arise. In addition to creating a substantial "speed bump" for traffic calming, these sleeping policemen units also create a strong visual presence allowing them to be used in a pedestrian crossing point.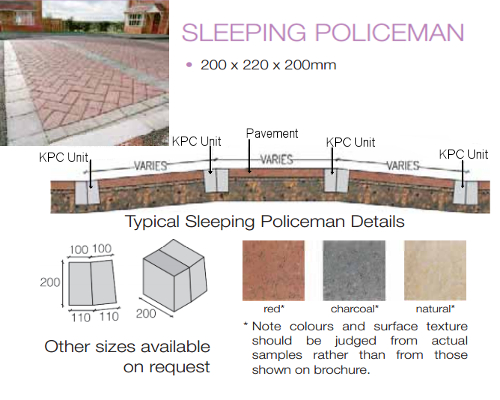 ---
Wheel Stops:
The KPC Wheel Stop is a concrete product that helps prevent damage to both the vehicle and the property by providing a limit-point for the vehicle wheels. Positioning of the wheel stop needs only account for an average overhang of the vehicle body beyond the wheelbase to prevent the vehicle coming into contact with the property wall, for example.
---
Need assistance on our traffic calming products?
Consult our engineers, we are always happy to answer any questions. Contact the team by phone on 0800 0393367, on email at info@killeshalprecast.co.uk or fill out the contact form below.
---