We have previously outlined here the importance Padstones as an essential component in modern block and brick construction projects, protecting the wall beneath from crushing weight transferred through load-bearing elements above. With architectural designs creating ever more imaginative living and working spaces the demands for appropriate corner padstones to support these new designs has increased dramatically. That's where KPC can shine… with corner padstones!
We've been making concrete padstones at KPC for a long time and in addition to our standard off-the-shelf straight concrete padstones we manufacture a range of corner padstones to allow for a greater and more versatile range of support options for the build designs of today's architects.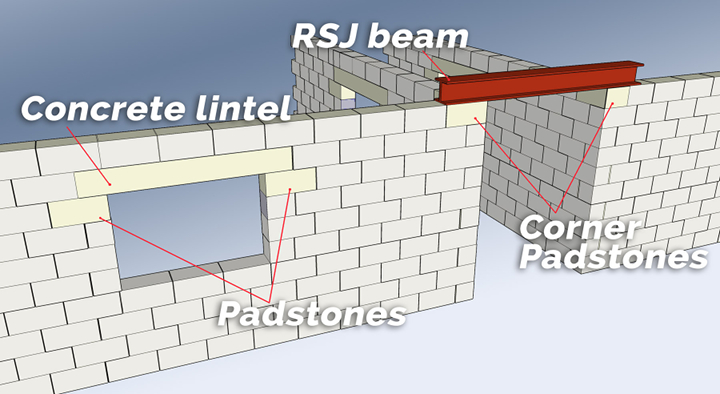 Corner Padstones Designed For You
There is no question that padstones play an essential role in any structure as we have outlined here before (you can read that here if you wish: Get-It-Right-With-Padstones) but if you were not already aware of the wide range of applications we can cover, well… we can provide a wide range of padstone support options for just about any application with standard and corner padstones. If you cannot find what you need in our off-the-shelf sizes, don't hesitate to contact us with the required dimensions. We have a long history of manufacturing to bespoke specifications here at KPC and the guys in our Technical Sales Team very much live up to the "Technical" part of that title, with a wealth of engineering knowledge and expertise.
Contact our KPC technical sales team to see how Corner Padstones from KPC can provide better concrete structural support and help you get it right for your project. Click here for our Padstones page.
---
Contact us by phone or email and see how we can meet your needs for construction materials. We think you'll be pleasantly surprised. See our Contact Us page for contact information.